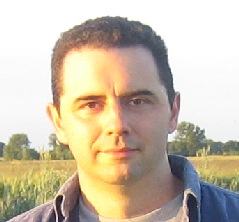 The OpenSimulator Community Conference is pleased to announce Dr. Steve LaValle, principal scientist at Oculus VR and professor of Computer Science at the University of Illinois, will be a keynote speaker at the second annual OpenSimulator Community Conference, scheduled to take place on November 8-9, 2014.
Dr. LaValle will address the exciting race to bring the consumer version of the Oculus Rift VR headset into widespread use for games, cinema, therapy, and virtual worlds. Since Palmer Luckey's 2012 prototype demonstrated that smartphone-based advances in display and sensing technology can enable a lightweight, high field-of-view VR experience that is affordable by the masses, widespread interest has grown across many industries, research labs, and potential end users of the VR technology. Dr. LaValle's talk will highlight ongoing technical challenges, including game development, user interfaces, perceptual psychology, and accurate head tracking.
Dr. LaValle began working with Oculus VR a few days after its successful Kickstarter campaign and has led its R&D efforts up to its $2 billion acquisition by Facebook in March 2014. He developed perceptually tuned head tracking methods based on IMUs and computer vision and has also led a team of perceptual psychologists to provide principled approaches to virtual reality system calibration and the design of comfortable user experiences. He has worked in robotics for over twenty years and is known for his introduction of the Rapidly exploring Random Tree (RRTs) algorithm of motion planning, and is the author of Planning Algorithms.
Registration for the OpenSimulator Community Conference 2014 is free and opens on September 15, 2014.  Sign up to receive an email reminder to register today!
https://conference.opensimulator.org/2014/wp-content/uploads/2014/07/avacon_oculus_on_avatar_verymeta1.jpg
1028
1920
Chris Collins
https://conference.opensimulator.org/2014/wp-content/uploads/2014/05/oscc14_website_header_banner.jpg
Chris Collins
2014-07-22 15:15:48
2014-07-22 15:21:41
OpenSimulator Community Conference Announces Principal Scientist at Oculus VR as Keynote Speaker