Content & Community Track
The Content & Community Track features sessions about all of the wonderful things that happen in-world. Building and content creation includes large scale immersive art installations, ballet, theatre, performance art, machinima, literary arts, clothing designs, virtual fashions, architecture, music performances and other cultural expressions.  There are also communities for nearly every interest, including role playing groups, science fiction communities, virtual towns and interest groups, historical explorations, religious and spiritual communities, book clubs, and so much more.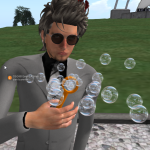 Jeff Mefford | Avatar: Dan Banner
Content & Community Track Leader

The Content & Community track is led by Dan Banner.  Dan Banner is an OSgrid administrator, OSCC volunteer, and virtual worlds enthusiast.
Video Stream

Live streaming video by Ustream
Track Schedule
ALL TIMES LISTED IN PACIFIC STANDARD TIME (PST/SLT) (-8 GMT)
TO CONVERT TO YOUR LOCAL TIME, USE THE TIME ZONE CONVERTER.
View the OpenSimulator Community Conference 2014 schedule & directory.