The Learning Lab
The Learning Lab provides an opportunity for attendees to explore and practice their virtual world skills, share their best OpenSimulator strategies, and experiment and discover diverse ways to use OpenSimulator to support creativity, knowledge production and self-expression. If you are a gamer or game enthusiast, this is the track for you! The Learning Lab features interactive sessions where attendees get to practice and apply skills hands-on, either in design or to play a game.
The Learning Lab is led by Dr. Cynthia Calongne.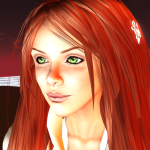 Cynthia Calongne | Avatar: Lyr Lobo
Learning Lab Manager
Cynthia Calongne, known as Lyr Lobo, joined CTU's Computer Science Doctoral department in 1996, and prior to it, was a software engineer for 13 years for AF Space Command and for an environmental organization. She has hosted 125+ keynote addresses, research paper presentations and workshops. Her team won the $25,000 Grand Prize in the Federal Virtual World Challenge for the Mars Expedition Strategy Challenge, a space simulation, and in 2005, she completed an artificial intelligence grant for the National Science Foundation. Her research began in 1995 when she evaluated a user interface paradigm for using virtual environments on a personal computer.
Video Stream

Live streaming video by Ustream

Learning Lab Schedule
ALL TIMES LISTED IN PACIFIC STANDARD TIME (PST/SLT) (-8 GMT)
TO CONVERT TO YOUR LOCAL TIME, USE THE TIME ZONE CONVERTER.
View the OpenSimulator Community Conference 2014 schedule & directory.