Developers & Open Source Track
The Developers & Open Source track covers the technical side of OpenSimulator. As such, this encompasses servers, viewers, external components, grid architecture, development, administration – anything that is necessary for the installation, operation and use of an OpenSimulator system.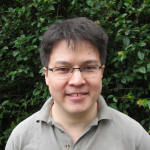 Justin Clark-Casey | Avatar: Justin Clark-Casey
Developers & Open Source Track Leader
The Developer & Open Source track is led by Justin Clark-Casey.  Justin Clark-Casey (@justincc) is President of the Overte Foundation, and one of the core developers of OpenSimulator, working on many different areas ranging from asset and inventory to performance and infrastructure issues. Justin created some of the better known data persistence formats for OpenSimulator, such as OpenSimulator Archives (OARs) and OpenSimulator Inventory Archives (IARs).  He also provides OpenSimulator-related consultancy services.
Video Stream

Live streaming video by Ustream
Track Schedule
ALL TIMES LISTED IN PACIFIC STANDARD TIME (PST/SLT) (-8 GMT)
TO CONVERT TO YOUR LOCAL TIME, USE THE TIME ZONE CONVERTER.
View the OpenSimulator Community Conference 2014 schedule & directory.