Research and Education Track
The Research and Education Track will explore the ways in which OpenSimulator has become a platform for computationally understanding complex problems, characterizing personal interactions, and conveying information. This track seeks presentations regarding OpenSimulator use towards research applications in computer science, engineering, data visualization, ethnography, psychology, and economics. It will additionally feature sessions that cover a broad range of uses related to teaching and learning in and with OpenSimulator.
The Research & Education track is led by Stephen Gasior.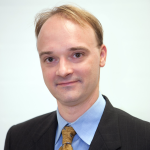 Stephen Gasior | Avatar: Stephen Xootfly
Research & Education Track Leader
Stephen Gasior, Ph.D. is a biology instructor at Ball State University and an accomplished virtual world educator. As Stephen Xootfly, he has taught several college courses in Second Life and is currently promoting collaborative work for STEM education via Virtual Islands for Better Education (VIBE).
Video Stream

Live streaming video by Ustream

Track Schedule
ALL TIMES LISTED IN PACIFIC STANDARD TIME (PST/SLT) (-8 GMT)
TO CONVERT TO YOUR LOCAL TIME, USE THE TIME ZONE CONVERTER.
View the OpenSimulator Community Conference 2014 schedule & directory.