Although the OpenSimulator Community Conference is in virtual space and made possible by hardware donations and many, many volunteers, it still incurs various expenses.   The two largest expenses are grid hosting and administration costs, and honoraria for keynote speakers.
The grid hosting and administration expense, among other things, helps cover the extensive labor involved in configuring, setting up and maintaining an independent grid.  This effort began in March 2013 and encompasses a long period as a test-bed for OpenSimulator performance and feature improvements, and as a building venue for conference and sponsor areas.  It will end with the intense two-day conference itself in September.
Honoraria are ex-gratia payments customarily given to keynote speakers for the preparation and delivery of their keynote.  None of the keynote speakers who are also on the conference planning team are receiving this payment.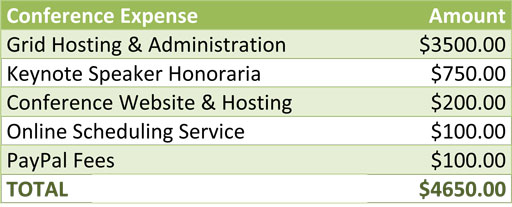 Compared to real world conferences, the budget of a virtual event like the OpenSimulator Community Conference is very modest, but it is not zero. As such, we ask businesses, entrepreneurs, and individuals who are willing and able to do so to support the conference by becoming a sponsor.
We are deeply grateful to those who have financially supported the first annual OpenSimulator Community Conference 2013, and we encourage you to visit the Sponsor Thank You page and their Expo Booths on the conference grid to show your support.  We also thank all the people who are volunteering their time to help organize and run the conference, and everyone who is participating as a speaker, social event organizer, or attendee.