https://conference.opensimulator.org/2016/wp-content/uploads/2014/11/oscc14_expo2_008.jpg
1028
1920
Joyce Bettencourt
https://conference.opensimulator.org/2016/wp-content/uploads/2014/05/oscc16_opensimulator_banner_FINAL-1500x266.png
Joyce Bettencourt
2016-11-07 12:11:48
2019-11-30 14:52:21
Register Today!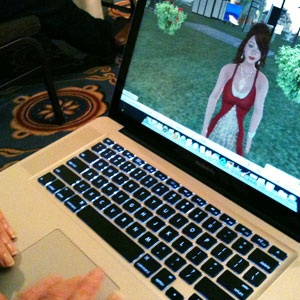 Dear Attendees/Speakers,
OpenSim Viewer technology and Web standards are constantly changing, sometimes they are not in lockstep with each other. Doing a dry run we noticed that showing video from the web in world, like youtube, is not working 'out of the box' for many people any more. That is very unfortunate as some presenters might want to show a video.
Fortunately there is a way to get video working in world more reliable, but it means you will have to install an extra flash plugin. Even if you already have the main flash plugin installed.
The following comes from the Firestorm Wiki:
Windows users:

In order to play Flash format videos (e.g., YouTube videos), you must have the Opera & Chromium version of the Adobe Flash plugin installed. Unless you already have this specific version of Flash installed already, you will need to get the Opera & Chromium Flash plugin from

Adobe

.
Linux users

You need to have the pepperflash plugin installed, which can be satisfied by installing pepperflashplugin-nonfree for Chromium
Mac users

Mac users currently need the Safari & Firefox version of Adobe Flash plugin installed. Download it from

Adobe

.
Make sure you select the right version when downloading.
It is understandable if this might make you uncomfortable. If you prefer not to install this plugin, we will make sure to share links to web video and webpages in chat during presentations. This way you can just click the links to load them in your web browser.
https://conference.opensimulator.org/2016/wp-content/uploads/2016/12/slcc_laptop2_300x300.jpg
300
300
oucadmin
https://conference.opensimulator.org/2016/wp-content/uploads/2014/05/oscc16_opensimulator_banner_FINAL-1500x266.png
oucadmin
2016-12-04 20:41:50
2016-12-06 20:47:14
OSCC16 – Note About Watching Video Inworld

AvaCon is pleased to announce the fourth annual OpenSimulator Community Conference 2016, to take place virtually on the OpenSimulator Conference Center grid on December 10-11, 2016. The OpenSimulator Community Conference is an annual conference that focuses on the developer and user community surrounding the OpenSimulator software. Organized as a joint production by Core Developers of OpenSimulator and AvaCon, this year's conference will focus on the visions for the future and technologies or content today that are shaping the future of the platform. 
The OpenSimulator Community Conference 2016 features a series of dynamic short presentations and panels that spotlight the best of the OpenSimulator platform and community.
"Last year's conference was a terrific success with more than 500 attendees within the 3D virtual world conference space, and thousands more watching on via live video stream." said conference organizer Joyce Bettencourt. "This year we hope to build on that success by offering more opportunities for the community to be involved and doing more outreach to attract new users. With all the interest surrounding the Oculus Rift, Vive, and other virtual reality technologies, we want the VR community to know that OpenSimulator is a great platform for building the open metaverse."
Those wishing to financially support the conference several options this year, including the opportunity to participate in a Crowdfunding Campaign when registering to raise small dollar amounts that will be used to help cover grid, web hosting, and streaming services for the conference.  Participants in the Crowdfunding Campaign will receive a variety of fun thank you gifts depending upon their level of participation, and event sponsors will have options for promotional activities and participation in creating content for the conference grid.
We hope to be able to accommodate over 350 users in total, a figure which includes speakers, sponsors, and staff. Since seats are limited, registration is open on a first-come-first-served basis until the maximum number of virtual conference center tickets is reached. At that point, community members will still be able to register for the live streamed version of the conference that will be available.
The expo area will not be ticketed and so can be accessed by any avatar, subject to constraints on the number of avatars that the exhibition regions can hold at any particular time.
…
We will have more information and details about the organization of the conference, and we look forward to seeing the wide range of projects, presentations, and other activities of the OpenSimulator community. Thanks for your interest and support, with more to come!
The OpenSimulator Community Conference 2016 Planning Team
Conference Chair
Joyce Bettencourt | Rhiannon Chatnoir
Conference Steering Committee
Joyce Bettencourt | Rhiannon Chatnoir
Crista Lopes | Diva Canto
Michael Cerquoni | Nebadon Izumi
Melanie Thielker | Melanie Milland
Conference Organizing Committee
Cynthia Calongne | Lyr Lobo
Joyce Bettencourt | Rhiannon Chatnoir
Maria Korolov | Maria Korolov
Kay McLennan | Kay McLennan
Barbara Truman | Delightful Doowangle
Grid Administrator | Michael Cerquoni | Nebadon Izumi
Sponsorship Coordinator | Joyce Bettencourt | Rhiannon Chatnoir
Streaming & Logistics | Mal Burns
Tech Guru | Jeroen Frans | Frans Charming
Streaming | James Lloyd | James Atlloud
Streaming Content and Tech | Michael Bailey | Marcus Llewellyn
Thirza Ember | Special Events
https://conference.opensimulator.org/2016/wp-content/uploads/2014/05/oscc14_featured_breakout_track.jpg
1010
1902
OSCC Admin
https://conference.opensimulator.org/2016/wp-content/uploads/2014/05/oscc16_opensimulator_banner_FINAL-1500x266.png
OSCC Admin
2016-09-12 19:48:44
2016-11-07 19:24:24
Announcing the 4th Annual OpenSimulator Community Conference 2016